myprotein ISO: PRO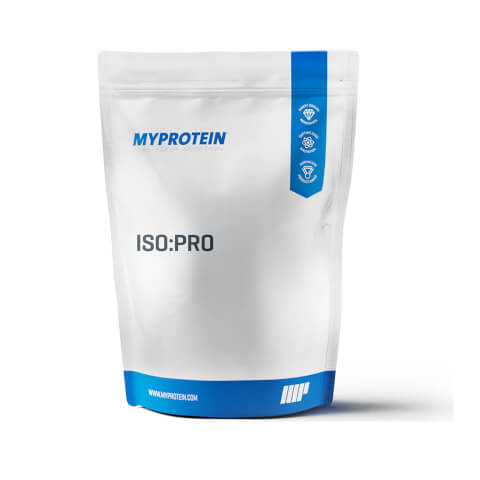 ISO: PRO
Product Overview
What is ISO: PRO?
Protein is a macromolecule with several diverse functions that are imperative for everyday health and performance. ISO: PRO is an extremely rich source of Whey Isolate and each serving contains minimal fat and carbohydrates making this product the perfect training companion to support all of your personal goals.
How did we design ISO: PRO?
This premium protein source has undergone a highly intense and meticulous purifying process, which prevents protein denaturing and ensures maximum protein integrity. It boasts extremely high protein content, as well as a comprehensive amino acid profile that provides all the essential amino acids (EAAs).
What are the Key Benefits?
Protein– (over 90% protein content) will help contribute to the growth and maintenance of lean muscle mass, which is integral to improve performance in a wide array of sporting activities.
Nutritional profile - ISO: PRO is an ideal companion for supporting calorie controlled diets, whether you are an amateur, intermediate or expert athlete. This supplement is available in 4 delightful flavours to suit a variety of tastes.
Leucine content – this is an essential amino acid (cannot by synthesised by the body) which is a fundamental building block for new proteins to be manufactured. To consume 3g of Leucine via food alone may be impractical, costly and time-consuming.
Is this Product for me?
ISO: PRO is suitable for all individuals who are looking for a premium, high protein, quality assured supplement to support their training goals and daily protein targets.
When should I consume this product?
ISO: PRO is rapidly absorbed and therefore it is recommended to be consumed 30-60 minutes post workout when the body's metabolism is lifted. Alternatively, it can be consumed anytime throughout the day to keep you on top of your daily protein intake.